Program a Garage Door Remote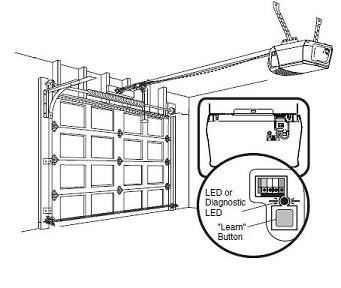 Maybe you lost a garage remote, or there's a new driver in the family. Either way, you'll need to open your garage door. In this post, I go over remotes and how to pair them with your current operator.
get the correct remote
Garage door remotes communicate using radio frequencies. Each brand of these remotes have their own frequency, so make sure you're matching those up before pairing. Common brands to look for are LiftMaster, Chamberlain, Genie, and Craftsman. Universal remotes can be found on eCommerce stores like Amazon, but make sure it's compatible. Consider the owner's manual for what remotes will work for your operator; these manuals are typically online if you misplaced it.
find the "learn" button
You're going to need access to the operator—consider a ladder or step-stool. The learn button is typically the largest circle button on the back of the operator. This could be hidden by a light cover on the back of the operator if you don't see it right away.
pair the remote
Press the learn button until it blinks. Once that light is flashing, click the button on the remote you want associated with that door. You'll want to have the remote readily available, because you'll only get about 30 seconds to pair once the learn button is blinking.
open the door
After a minute or so, press the button on your remote to test it out! If you unplug your operator, your remotes will still be paired for when you plug it back in
If this doesn't work after a few tries, you may have to find the operator's manual and do something more specific. After all, these instructions are just generally how to pair a door. Our technicians have experience pairing remotes to all sorts of operators. If you've tried just about everything, contact us.